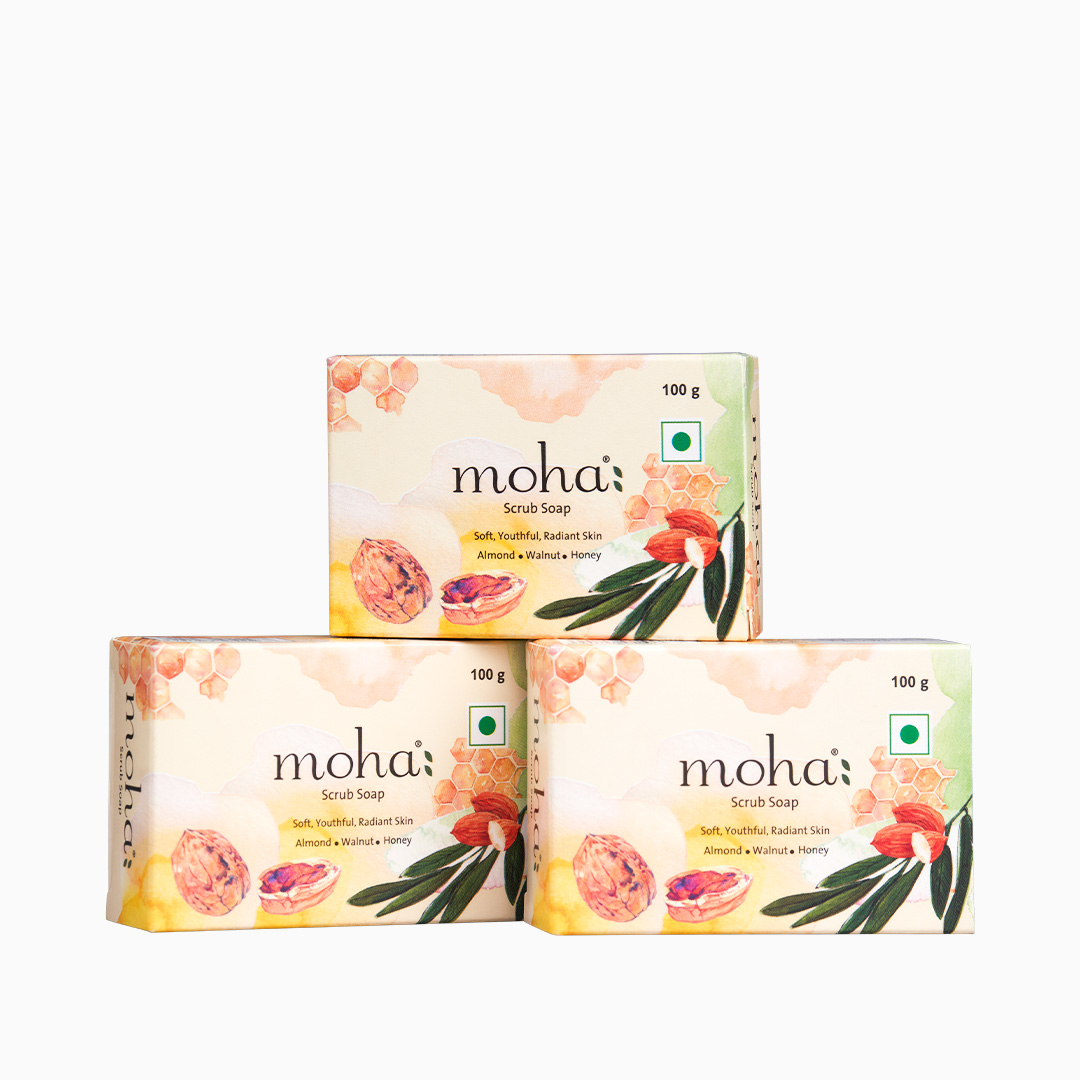 Scrub Soap
Earn
₹7.00
as Glow Points.
From washing away dead skin cells, to hydrating your face and making it look squeaky clean and healthy, the moha: scrub soap is the best moisturising, exfoliating soap for dry skin as it helps to:
Exfoliate the skin gently
Keep the skin fresh, glowing and healthy
Maintain a moisturised and youthful look
Help prevent skin dryness




₹150.00
₹225.00
MRP inclusive of all taxes.
---
Description
BODY EXFOLIATION IS NO MORE A HASSLE!
Scrub your dead-skin cells and dullness from the body with Best Moisturizing Exfoliating Scrub Body Soap from moha: enriched with herbal ingredients for Soft, Healthy & Glowing Skin.

moha: Scrub Soap is the best moisturizing soap and is a culmination of 74 years of Ayurvedic expertise of Charak Pharma and helps clean daily dirt and nourishes your skin revealing radiant, wonderfully supple, and soft skin, daily.
With the powerful blend of Almond oil, Honey, and Walnut Shell, the moha: scrub soap is the best moisturizing and exfoliating soap for dry skin and body which is skin-friendly that removes away dirt and dead skin cells, leaving skin softer & radiant.
Almond oil: It helps to protect skin by acting as an emollient and a skin softener. It promotes a clear, youthful complexion.
Honey: It has great moisturizing and healing properties which keep the skin soft, young, and glowing.
Walnut shell: It is a soft but effective abrasive, making it a natural non-toxic, exfoliating agent. It gently scrubs away dead skin cells, oil, and dirt leaving your skin softer and radiant.
BENEFITS of moha: Scrub Soap

moha: Scrub Soap is an exfoliating bathing bar with no Triclosan or any other harsh chemicals for the complete family protection.
Key Ingredients
FAQs
Reviews