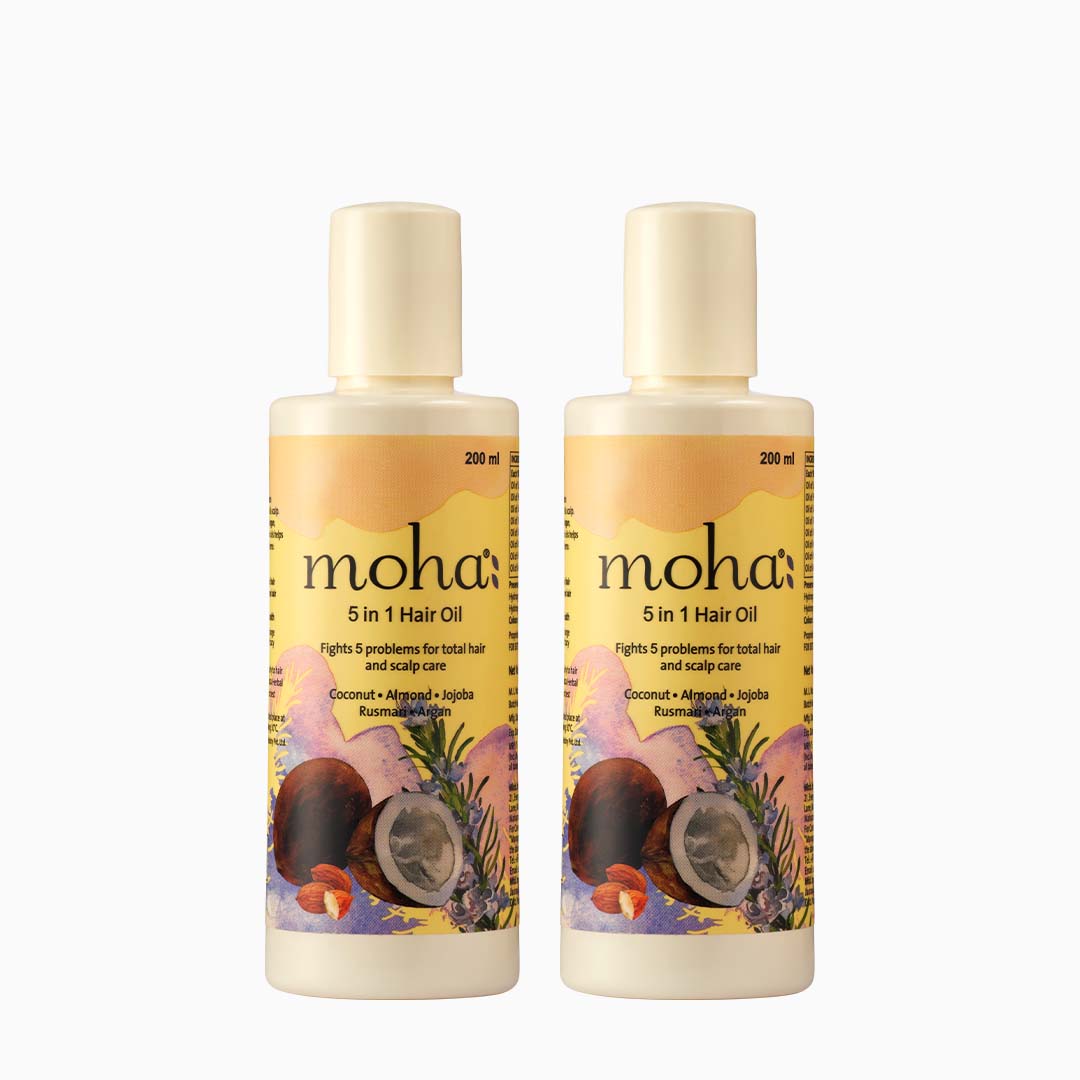 5 in 1 Hair Oil
Earn
₹25.00
as Glow Points.
We are delighted to introduce moha: 5 in 1 hair oil hair fall reduction money-back challenge. Apply the oil three times a week for 30 days and cleanse with a mild shampoo like moha: Herbal shampoo. Allow hair to air dry and then brush your hair and observe reduced hair fall each time. If not satisfied, we offer 100% money back. Our product is backed by clinical evidence!
moha: 5 in 1 Hair Oil, CLINICALLY PROVEN to result:
80% IMPROVEMENT IN HAIR GROWTH

63% REDUCTION IN HAIR FALL

4.0X REDUCTION IN DANDRUFF

Use two bottles of moha: 5 in 1 Hair oil thrice a week for 60 days, based on a clinical study (CTRI/2022/02/040209)
moha: 5 in 1 Hair Oil is 100% Ayurvedic Oil infused with a blend of natural oils, fights 5 major hair problems, & provides complete nourishment to the hair & scalp.


Nourishes hair follicles and enables hair growth

Strengthens hair from root to tip, thus minimizing hair fall

Reduces dandruff and soothes itchy scalp

Maintains hair and scalp health and prevents hair breakage

Makes hair strong, smooth, and shiny

Improves hair growth, hair thickness, and density




₹504.00
₹720.00
MRP inclusive of all taxes.
---
---
---
Description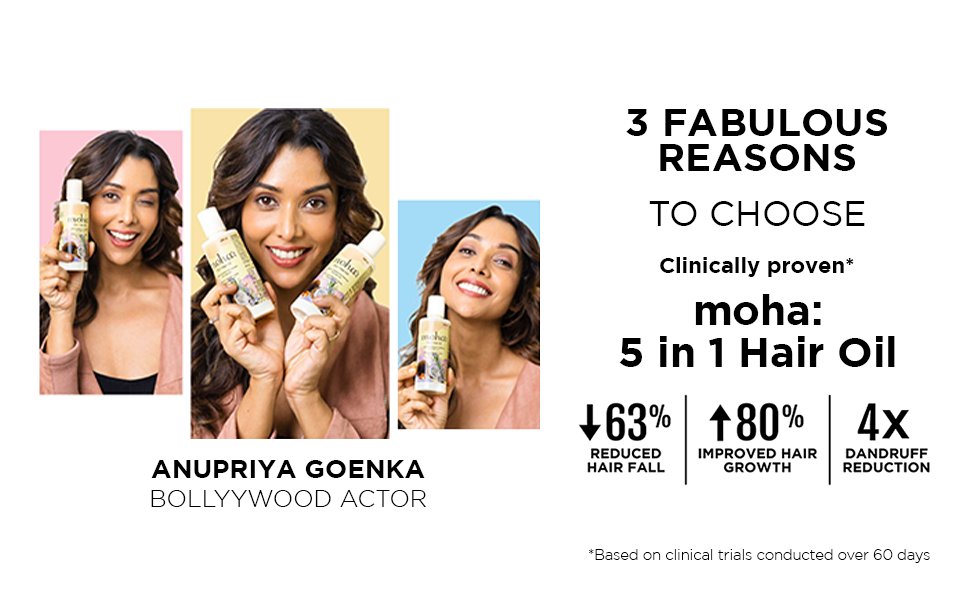 Switch to All-Natural, Clinically proven moha: 5 in 1 hair oil for Strong, healthy and nourished hair from root to tip
The moha: 5 in 1 hair oil is a perfect companion for healthy and nourished hair and scalp. It combines the ancient wisdom of Ayurveda as we blend the best of natural oils to combat hair problems caused by environmental toxins, dust, daily damages due to excessive styling, and the application of harsh chemicals to your hair and scalp.

Formulated by experts and Crafted by the 75-year-old expertise of Charak Pharma, it is the best oil for hair growth and dandruff reduction as exhibited by the clinical study. it nourishes and strengthens your tresses with every use and offers natural holistic solutions to your hair and scalp problems.

BENEFITS of moha: 5-in-1 Hair Oil


Apart from being the best herbal oil for hair growth, the moha: 5 in 1 hair oil is 100% Ayurvedic and cruelty-free
Coconut Oil: Infused with antifungal properties, coconut oil reduces protein loss and sustains hair elasticity.
Almond oil: The almond oil moisturizes your hair and prevents frizz. It improves the texture and elasticity of the hair and stops split ends as well. Rich in Vitamin E, it has antioxidant properties that offer overall nourishment to the hair and scalp.
Jojoba oil: Jojoba softens your hair strands, making them shiny and silky. With its nutrient-rich structure, it helps to moisturize the hair by penetrating its outer cuticle.
Argan oil: Enriched with antioxidant and anti-inflammatory properties, and Vitamin E, the argan oil improves the health of your hair. Oleic acid and Linoleic acids are known to hydrate dry, frizzy hair. It acts as a natural sunscreen that protects your hair from harmful UV rays.
Wheat germ oil: Wheat gram oil is rich in vitamins E, B1, B2, B3, and B6 that enhance hair quality, moisturizes and nourish your hair and scalp too.
Hibiscus Oil: Rich in Alpha-hydroxy Acids, Vitamins A and C, and Amino Acids, the hibiscus oil improves the overall health of your hair. It prevents premature greying and dandruff, making it the best oil for growth and dandruff.
Sesame oil: Sesame oil is enriched with Proteins, Vitamins E, B complex, and minerals like Calcium, Magnesium, and Phosphorus that help strengthen hair roots and protect against hair damage caused by styling, heat, or chemical treatments and colorants.
Tea tree oil: Powered by anti-fungal, antibacterial, and antimicrobial properties, the tea tree oil prevents and controls scalp dandruff, itching, dryness, and hair fall.

Apply this best herbal oil for hair growth along the length of your hair, starting from the scalp. Massage deeply into your scalp using circular motions and leave it in for at least an hour before hair wash.
moha: 5 in 1 hair oil is made of 100% ayurvedic ingredients and is free from any harsh chemicals.
Key Ingredients
FAQs
Reviews