Our skin often comes in contact with pollutants, toxins, and harmful chemicals due to exposure to pollution, heat, climate change, etc., and causes blemishes, wrinkles, and acne. Moreover, treating your delicate skin with synthetic soaps can further aggravate skin troubles. So what could be the best solution for all skin and hair problems?
Can nature provide us with something that can give us relief from many skin and hair issues? Well, our mother nature offers a beneficial plant called Aloe Vera. And the best of this plant has been infused in the form of an effective herbal gel called the moha: aloe vera gel that offers complete nourishment and hydration to your skin.  
But what makes moha: so 
Reasons to Choose Moha:
moha: from the strong legacy of Charak Pharma
All our products pass through 20 rounds of quality tests, thus ensuring high standards and quality.
Our products are 100% natural, free from chemicals, parabens, and sulfates.
At pocket-friendly prices, you get the best desirable, effective results for your hair and skin in a short period.
And above all, we give back to the environment. Our packaging is eco-friendly and, bottles are recyclable after use.
We have the moha: insider club, our loyalty program where on becoming a member gets 15 glow points redeemable on your first purchase.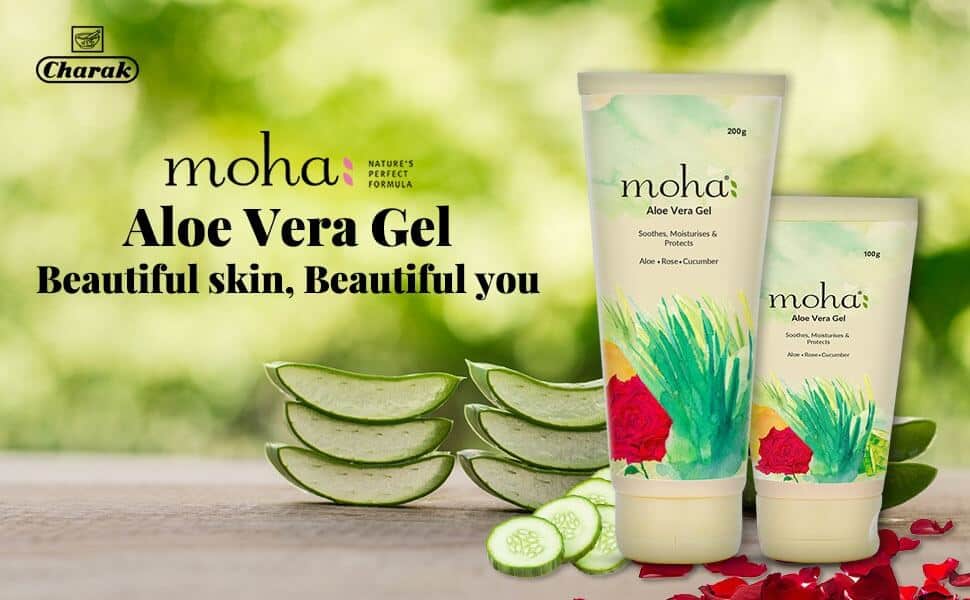 Unravelling the Magic of Aloe Vera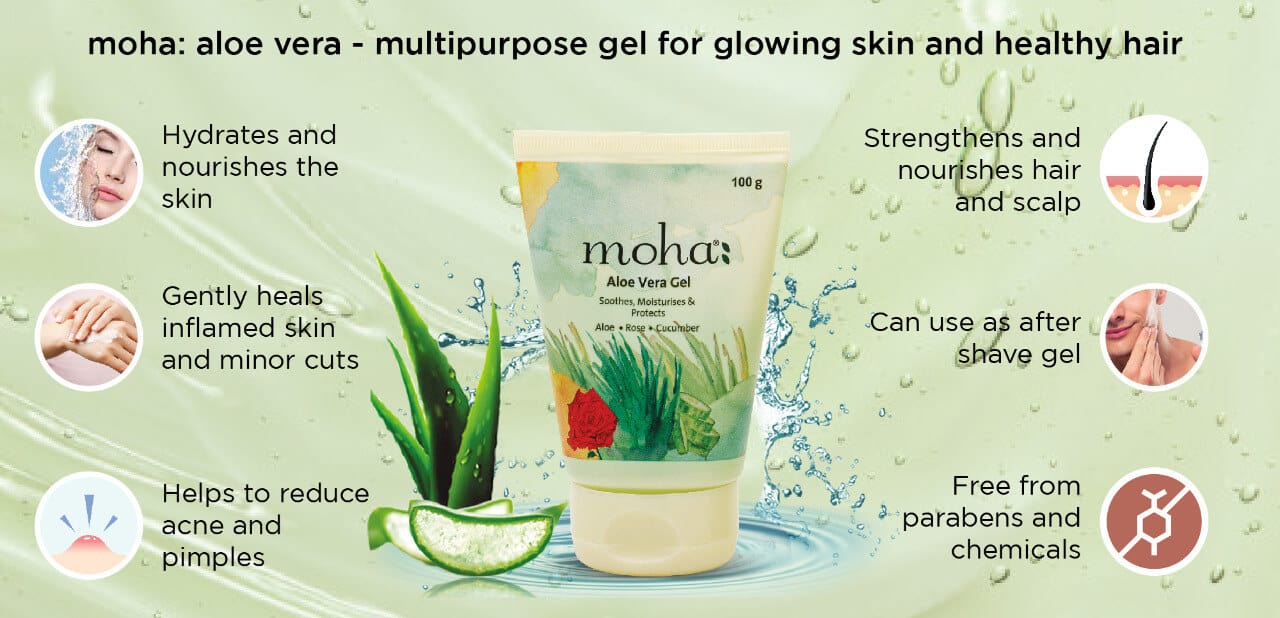 The Aloe Vera benefits for skin and hair are beyond our imagination. Aloe Vera is a one or two feet shrub with thick, pointed, and fleshy green leaves. Each leaf contains a slimy tissue that stores water which makes the leaves thick. This water-filled tissue is extremely bitter gooey translucent gel. 
All the magic of Aloe vera begins with this translucent gel. It is of around 96% water, some organic and inorganic compounds. 
Aloe vera also contains a carbohydrate known to play a role in collagen synthesis for better wound healing.
Aloe vera benefits skin and hair care due to vitamins, minerals, amino acids, and antioxidants present in this sap include nourishing vitamin E and skin-brightening vitamin C.
Decoding the Aloe Vera Benefits for the Skin
The Aloe Vera gel has anti-aging properties due to vitamins like C and E, beta-carotene. It helps to reduce skin blemishes because of its anti-inflammatory properties. 
 It helps in the production of collagen in the body and maintains skin elasticity. Hence it hydrates the skin and stimulates its regeneration to diminish age lines. It also acts as an excellent soothing agent for the legs, hands, and face. 
Aloe vera, with its antimicrobial properties, helps in preventing pimples and reduces acne, such as pustules and nodules due to its anti-inflammatory action. It even includes flushing out the excess sebum, microbes, and dirt. Aloe Vera contains an exfoliating ingredient that unclogs pores. It helps to moisturize dry patches because of acne medications. 
Aloe Vera is highly beneficial for burns, cuts, and other injuries because it boosts the healing of wounds. It also helps to speed up skin cell reproduction as it is known to penetrate the outer layer of the skin. Due to its anti-inflammatory properties, it helps to form a protective layer around the skin to retain moisture. It is rich in antioxidants that boost the healing process. 
 Aloe Vera acts as an excellent relief in case of tired feet because of its soothing effect. It is the natural option for removing makeup as it is gentle on the skin, moisturizing, and has a gel-like consistency. It softens the skin without leaving a greasy film on the face and skin.
Unveiling the Aloe Vera Benefits for Hair
The Aloe Vera gel helps in activating new hair growth by improving the blood circulation to the scalp. It also provides essential minerals and vitamins for hair growth. 
The Aloe gel helps to maintain the shine and vitality of the hair. The Aloe vera benefits for skin and hair include its conditioner action for smooth and shiny hair. Aloe Vera contains enzymes that help to repair dead skin on the scalp. It is one of the natural ways to get rid of dandruff and prevent itching on the scalp. It removes dry skin and fungal infections on the scalp.
Aloe has a skin protective, moisturizing and emollient action. Due to these actions, it is abundantly used by the beauty industry in soaps, creams, and shower gels. 
moha: Aloe Vera Gel is a natural hair and face care product from the 74-year-old Ayurvedic experts of Charak Pharma. It is infused with the hydrating, healing, and cooling properties of aloe, rose, and cucumber. The presence of cucumber and rose water in this gel makes it a coolant that leaves pleasant and soothing sensations on the skin.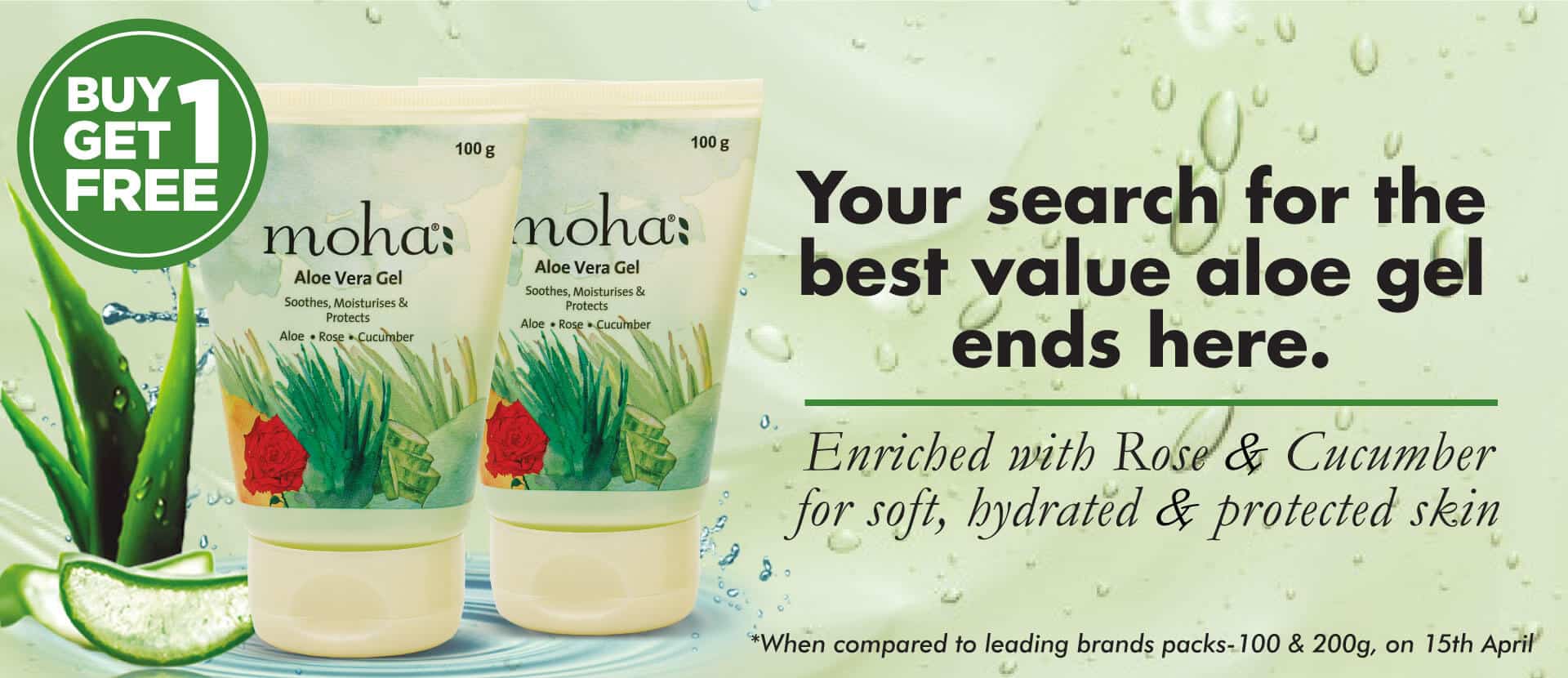 It is the best aloe vera gel for the face in India for moisturizing dry skin and softening its texture and forming a protective layer on the skin, which guards it against all the outside impurities and retains its moisture. 
moha: Aloe Vera Gel is a non-sticky product enriched with natural Vitamins and Minerals. It is an excellent antioxidant that fights against the signs of aging, like wrinkles, fine lines, and dark spots. It goes well with all skin and hair types. 
So, add this best value aloe gel to your daily skincare routine at a price of just 99, and guess what? You can buy 1 and get 1 aloe vera gel absolutely for free for long-term and highly effective results for your skin and hair.