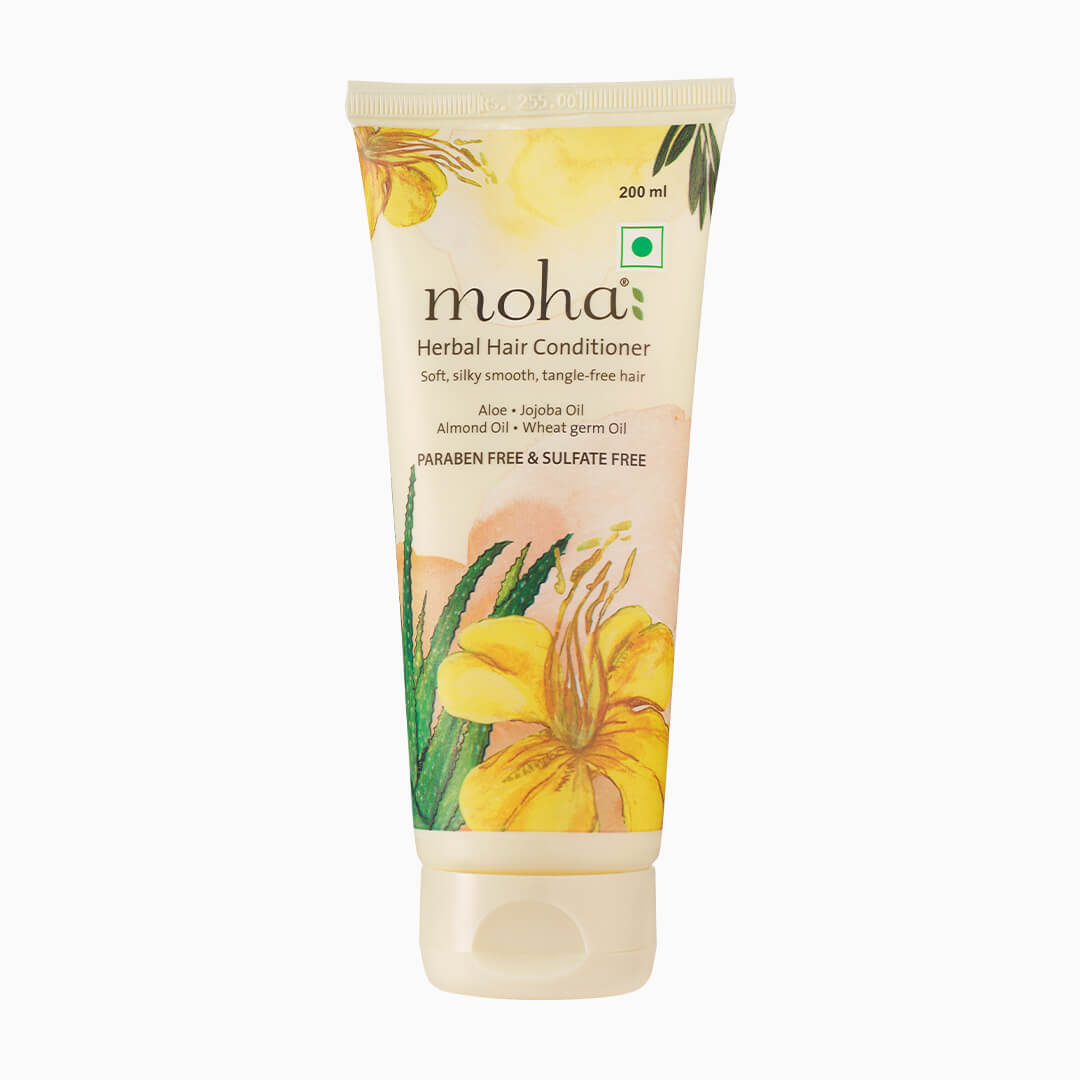 Herbal Hair Conditioner
Earn
₹14.00
as Glow Points.
The moha: herbal hair conditioner is considered to be the best moisturizing hair conditioner for dry and damaged hair as it offers long-term, nourishing, effective solutions to your hair. Formulated with the ingredients of Wheat Germ oil, Jojoba oil, Almond oil, this conditioner
Makes your hair lustrous and smooth
Keeps the frizz away
Adds shine and volume to your hair
moha: Herbal Hair conditioner is suitable for all hair types that helps to strengthen and smoothen the hair.
₹280.00
MRP inclusive of all taxes.
---
Description
For Nourished and Manageable Hair, Choose moha: Herbal Hair Conditioner
The moha: herbal hair conditioner is an all-natural conditioner enriched with the goodness of Aloe, Jojoba oil, Wheat Germ oil, and Almond oil and is the best hair conditioner for dry hair as it manages to keep the damage and frizz away.
Use moha: herbal hair conditioner free from parabens and sulfate for strong and shiny hair.
INDICATIONS:
DIRECTION FOR USE:
Apply moha: herbal hair conditioner on your damp hair avoiding roots.
Wait for 2-3 minutes for it to seep in and rinse it off till it's completely clean.
For best results, use it with the moha: herbal shampoo.
Add strong doses of herbal care to your daily hair care regime with the best moisturizing hair conditioner for dry hair
BENEFITS:
Forms a natural protective shield to retain moisture and stop hair breakages and damages
Deeply nourishes and strengthens your hair
Adds shine to each strand of hair
Offers pleasant smell that does not cause irritation or discomfort
Prevents hair damage caused by pollution, sun, and styling treatments
Formulated With the Unique Blend of Natural Ingredients
Aloe: Maintains the optimal pH balance of the hair and scalp and nourishes each hair fiber.
Jojoba oil: Creates a protective layer that shields your hair from breakages and helps you manage and style your hair.
Wheat germ oil: Rich in vitamins B1, B2, B3, and B6 that preserves the natural shine of your hair.
Almond oil: Rich in fatty acids that retains moisture and fixes hair damage and breakages.
Key Ingredients
FAQs
Reviews